Pallet changer PW 3000
Two-way pallet exchange
The PW 3000 from Baust offers a clever two-way solution. The pallet changer allows loading and unloading from both the front and rear of the machine. This is both convenient and space saving. The PW 3000 can separate internal and external pallets even in demanding hygienic zones.
pallet exchange using the pushing method
gentle handling of particularly sensitive goods
space saving two-way pallet changing system
operation at both ends e.g. in sluice system
sliding plates and flexible side walls
loading/unloading using manual pallet truck
Specifications
performance: 10 – 30 changes/h
dimensions (L x W x H in mm): 3400 x 2300 x 2600
side walls: pneumatically adjustable
front & back wall: manual doors
feeding & discharging: manual or electric pallet truck
control mode: automatic
power supply: 4 kVA – 16A 230/400 V R1/2", 6 bar
machine weight: approx. 2900 kg
Pallet loading
total weight up to 1200 kg
standard pallet (W x L in mm): 800 – 1000 x 1200
max. height incl. pallet: 2000 mm
goods: e.g. cartons, drums, boxes, bags or bottles
overhang tolerance for each side: 50 mm
Options
sliding plate unit
stainless steel contact parts
goods height > 2000 mm
pneumatic doors
automatic/manual adjustment of pallet guides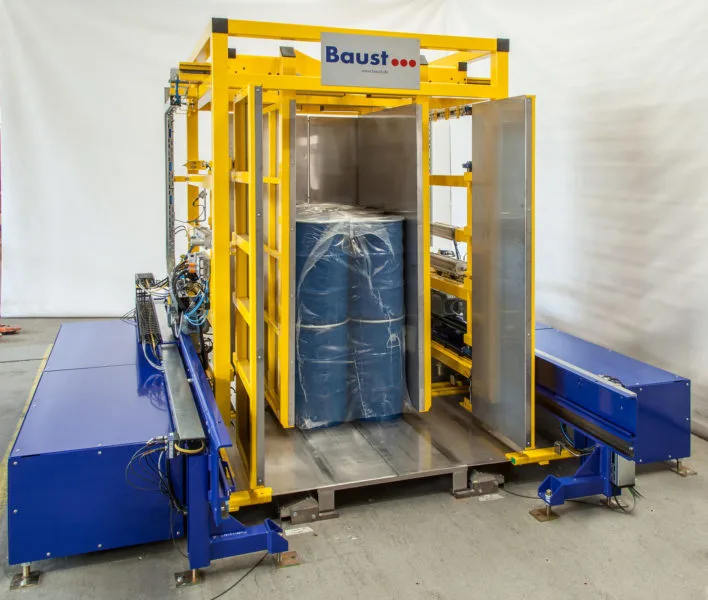 Pallet changing with the PW 3000
The PW 3000 can be utilized in all those areas where ground level operation in both directions is necessary. It is ideal when working together with a sluice system. The source pallet and target pallet are loaded from opposite sides using a manual pallet truck. The hygiene barrier is located in the middle of the machine. The hinged rear wall closes like a sluice gate on the goods and pushes them safely over to the target pallet. The two-way system facilitates both an internal > external as well as external > internal pallet change. As an optional extra Baust offers lock gates in front of the machine walls. These ensure that a sufficient air flow is guaranteed during the pallet change process and that the pallet changer fulfills the required high standards of hygiene.
We recommend the PW 3000 for between 10 and 30 changes per hour.
Request a non-binding offer now