Professional pallet handling for all types of pallets and individual requirements
Pallets have revolutionized the flow of materials and logistics in Germany and worldwide. In the meantime, more than 110 million Euro pallets are made from wood internationally every year and thus tie up a fifth of European wood production. There are also pallets made from residual wood, plastic, metal, paper and corrugated cardboard, depending on the budget and the desired application. Their strict standardization and internationally established quality standards make them a universally applicable transport medium. Professional pallet handling is all the more important and one of the most important areas in the material flow for industry, trade and logistics.
Pallets are also an indicator of the economic situation: the more products are manufactured and transported, the higher the demand for pallets. In the future, logistics processes and the material flow with pallet handling will be facilitated by automatically traceable and controllable pallets. Then a smart, interactive pallet can no longer only serve as a means of transport, but also as an information carrier and communicate independently with a network.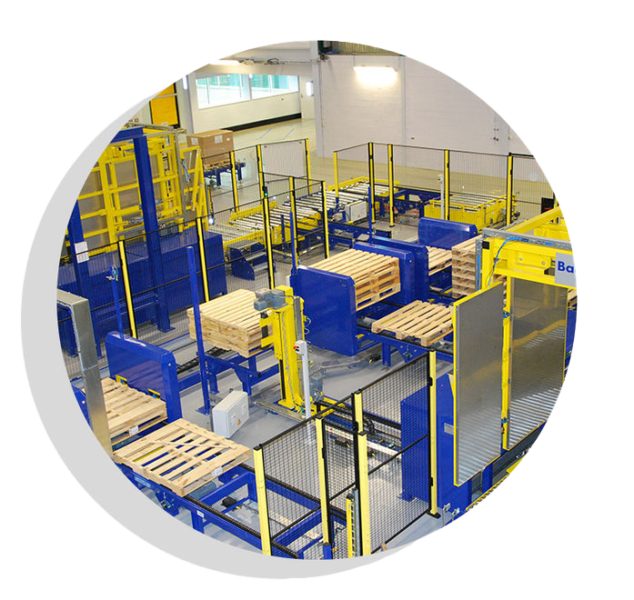 The types of pallet handling in material flow and conveyor technology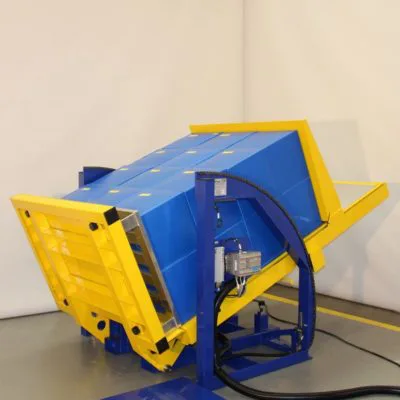 Pallet handling with goods – invert pallets with load
The possibilities and the full potential of pallets can only be fully exploited with an optimized workflow. Machines support the exchange and inverting of loaded pallets. This step can be necessary if, as in the food industry or in pharmaceutical production, no external pallets can be brought into the production areas.
The pallet inverter of the Baust material flow systems also lend themselves well when fully packed industrial products have to be transported further or foodstuffs such as wine and cheese have to be rotated for further maturation.
Compared to turning by hand or using robots, the time factor speaks first for pallet users: they are simply significantly faster. Another equally important argument is their reliability. In contrast to the "human factor", the sophisticated technology minimizes the likelihood that the load will be damaged during the procedure; the risk of employees being injured when turning is also almost eliminated.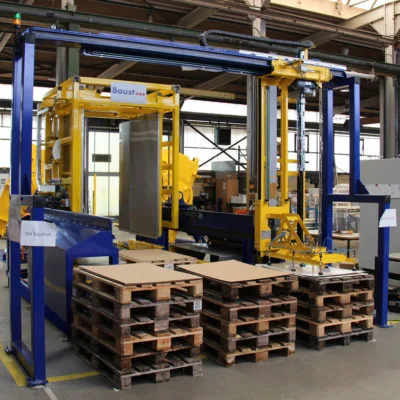 Effective protection and hygiene with cover sheet or slip sheet handling
Cover sheet or slip sheet handling is a highly efficient method in pallet handling to effectively protect the load on a pallet against damage or contamination in the lower area. This is done by an intermediate layer as a protective cover, which is applied to the empty pallet before palletizing, in order to keep the load and pallet separate from each other. This intermediate layer can consist of cardboard, paper or plastic, as required. This step is particularly useful when goods have to be relocated from a plastic hygiene pallet for further transport to a wooden pallet. This also applies if goods in transit are transferred from the supplier pallet to the internal pallet at the inbound area. Changing pallets by building pallet changers is the main focus in the area of pallet handling.
With an appropriate anti-slip coating, the slip sheet is also a supplementary measure for securing loads. Slip sheet handling is not only useful for the first loading, but also for the pallet changing process. In the automated work steps of Baust material flow systems, the slip sheet can be fixed and held, but also removed and professionally disposed of. The slip sheet is individually removed from the stack using suction pressure and placed on the respective pallet. The Baust slip sheet dispensers ensure fully automated dispensing and collection of slip sheets.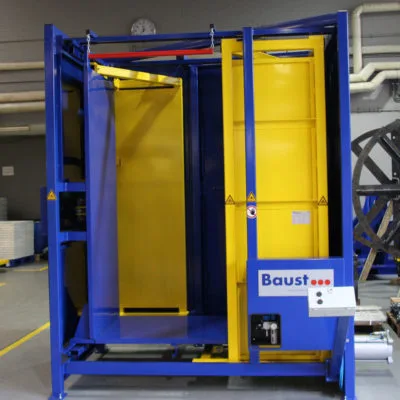 Safety and cost savings with pallet aligners
The great advantages of pallets are their optimal use of space and their quick, uncomplicated processing. However, these effects can be significantly reduced if entire pallet stacks or loaded pallets are delivered crookedly and misangled to the next work step. With all due care, this discrepancy can occur quickly during transport or during loading and unloading. The consequences are considerable difficulties in storage, processing and onward transport. This causes loss of time and disruption of the production process and thus increased costs. There is also an increased risk that the load will be damaged if an inclined pallet tilts. In the worst case, people can also be injured.
Here, Baust material flow systems also offer optimal solutions: with sophisticated stack aligners, pallet stacks can be quickly and exactly aligned lengthwise and crosswise. In fully automated systems, a contour control monitors the load, preferably in combination with a centering station. This saves time – and security is gained.
Pallet handling ensures a seamless material flow
But in order to be able to use the full potential of these transport aids, which have long since become irreplaceable, well-thought-out pallet handling is required. This is the only way for companies to work more efficiently and economically through the storage, use and provision of pallets. Pallet handling begins with the selection of the most efficient lifting equipment and does not end with the design of complex loading and processing lines.
This also includes pallet changing if the working conditions or the working environment change. This can be necessary if you have to switch between the inbound and the clean room area between wooden and hygiene pallet. A pallet exchange cannot be avoided if you have to change from the customer pallet to your own or vice versa to a shipping pallet. Sometimes it is also necessary to turn pallets for technical or production reasons.
Pallet handling also includes identifying defective or unstable pallets. If these are not pulled out of the material flow early, malfunctions are unavoidable, especially in automated conveyor systems in high-bay warehouses. In the case of unstable pallets, centering machines can ensure better pallet securing and packaging quality. This enables safe, space-saving and therefore inexpensive transport.
In order to further improve load security, it is advisable to integrate systems for slip sheet handling: an intermediate layer of cardboard, paper or plastic can be automatically applied between the pallet and the goods to protect the load in the lower area. Or the slip sheet must be fixed in its position and secured against slipping. It is equally important to store currently unused pallets economically.
This also includes the stacking and unstacking of pallets and their collection in magazines, from which they can be easily integrated back into the material flow.
The main uses of pallet handling:
Pallet changing for different areas of application such as the hygiene reason: change between wooden and hygiene pallet (plastic or aluminum) between incoming / outgoing goods and clean room (ideal location for lock-room-systems)
Inverting loaded pallets is not only used for exchanging the pallets (= pallet change) but can also be used as a process step in production, wherever goods are stacked on a pallet and inverting the individual boxes or boxes by hand or by robot is too time-consuming.
Examples of use: turning food for further ripening or subsequent processing (e.g. cheese loaves, drinks), inverting industrial products made of wood, plastic or metal packed as a stack on a pallet
Align or center the pallet stack or pallet with load
In order to ensure safe transport on a conveyor line, pallet stacks are often aligned before further processing, so that they e.g. can safely drive into pallet magazines. Loads on a pallet are better aligned and centered again before the packaging process (stretching or shrinking) so that the packaging is stable and space-optimized.
Double pallets = place 2 loaded pallets on top of each other e.g. Optimized use of transport or storage volume (other application: placing a second empty pallet = saddling)
Both processes can also run the other way round = destacking or desaddling
Cover sheet or slip sheet handling: Place the intermediate layer made of cardboard, paper or plastic on an empty pallet before palletizing to separate the load and the pallet: Protection of the load against damage or contamination in the floor area
Or fix, hold, remove and dispose of the slip sheet during the pallet change process
Stacking / collecting / storing / unstacking / dispensing pallets in pallet magazines for orderly storage of the pallet stack or for maximum throughput for all automated pallet conveyor systems (especially inline pallet changing systems)
The advantages of correct pallet handling
De-nest and nest empty pallets with a pallet turning station: saves transport volume
Change between wooden and hygiene pallet (plastic or aluminum) between incoming goods and clean room (ideal location for locks)
Avoid downtime and malfunctions in an automated conveyor system / high-bay warehouse due to damaged and unstable wooden pallets
Save shipping costs: switch from high-quality in-house pallets to affordable shipping pallets