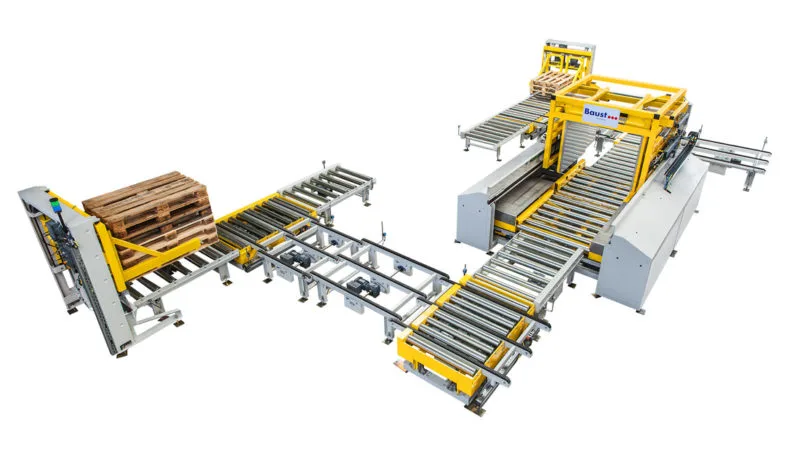 Pallet inverter
Safe pallet changing in every branch of industry
Do you want to maximize the efficiency of your pallets? Then a pallet inverter from Baust is exactly what you need! With our state-of-the-art products, you can effortlessly turn over your pallets and thus significantly increase the useful life of each pallet. By using a pallet inverter from Baust, you not only save time, but also costs. All of our pallet inverters are manufactured to the highest standards, providing you with a reliable and durable solution to your needs.
Rely on our experience and make your logistics processes even more efficient!
Repalletize processes with pallet inverter
Complete systems for the material flow
Planning for automation and conveyor technology for your palletizing system

Pallet inverters with the clamping method
Palletize robust goods quickly and cheaply
Side clamping of the goods
Simplest and cheapest option for particularly robust goods
pallet inverting: Ideal for palletizing cardboard boxes and boxes
Lowering and exchanging the pallet using a hand pallet truck or a lifting roller conveyor
Performance: up to 50 changes per hour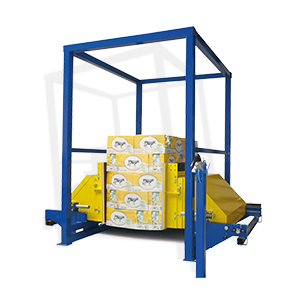 The PW 500 offers the simplest and therefore most economical variant of palletizing and is particularly suitable for pressure-stable and insensitive goods that can withstand a lot.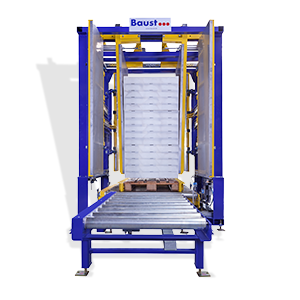 The most efficient solution to get robust and pressure resistant goods from one pallet to another fully automatically. The PW 500 Inline offers the proven clamping method for conveyor lines.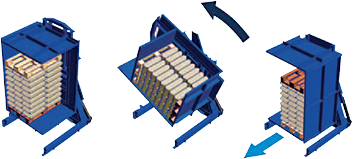 Pallet inverters with the inverting and tilting method
Suitable for many pallet sizes
Rotate or tilt the goods by 90 to 180°
Ideal for palletizing sacks and big bags
Overhang of the goods is not a problem
Reliable even with poor pallet quality and different pallet dimensions
Performance: up to 55 changes per hour

Pallet inverter and the reverse method
The reverse method of a pallet inverter works as follows:
Loading the pallet: the pallet is loaded into the pallet inverter, either manually by a forklift or automatically by a conveyor belt.
Securing the load: once the pallet is loaded, it is secured by a hydraulic clamp or pressure plate mechanism. This mechanism holds the pallet and its load securely while the turning operation takes place.
Turning operation: After the load is secured, the turning operation begins. The pallet inverter lifts and rotates the pallet 180 degrees. Depending on the model and settings, this process can be repeated once or several times.
Unloading the pallet: After the pallet has been turned, the securing device is released and the pallet can be removed from the pallet inverter.
This method makes it possible to bring the bottom of the pallet up or replace damaged pallets without having to manually dismantle and reassemble the entire load. It improves efficiency and safety in the warehouse and reduces the risk of injury from manual handling.
Cost savings through pallet inverters for your company
As a business, you are always faced with the challenge of cutting costs to stay competitive. One way to reduce costs in material handling is to use pallet inverters. By using these machines, you can save not only time, but also space. Turning pallets becomes a quick and easy task with a pallet inverter, requiring only one operator. In addition to saving time, you also reduce the risk of injury to employees by using pallet inverters. So investing in pallet inverters can prove to be extremely worthwhile for your company and result in significant cost savings in the long run.
The operation of pallet inverters
The operation of pallet inverters is extremely effective – especially in warehouses and shipping centers, where turning pallets around quickly and safely is of paramount importance. Pallet inverters use a special reversal method to transfer the load from one side to the other. This is accomplished by turning the entire pallet 180 degrees. The reversing function is often integrated into handy devices such as pallet inverters for forklifts, making it easier to unload truck contents or organize stock. All in all, pallet inverters are an indispensable aid in optimizing goods logistics and ensuring the smooth running of daily business.
Sustainably increase production speed with a pallet inverter
Thanks to modern technologies, operating processes can be made more efficient and optimized to increase productivity. One of the latest innovations in production is the pallet inverter. With this device, pallets can be turned in seconds, which significantly speeds up the work process and thus sustainably increases production speed. In this way, companies not only save time, but also money, as they can handle the same amount of production with fewer personnel and machines. Whether in the food industry or in the logistics sector – the pallet inverter has the potential to become an important helper in production.
Improving logistics with a pallet inverter
By using a pallet inverter, you can significantly increase the efficiency of your logistics processes. This device makes it possible to turn and rotate pallets quickly and easily, ensuring optimal utilization of the available storage space. Thanks to the pallet inverter, transport distances can also be shortened, as long detours are no longer necessary to bring the pallets into the desired position. In addition, the use of this handy device also reduces the risk of injury to your employees, as they no longer have to move heavy loads manually. So if you're looking for a way to optimize your logistics processes, the pallet inverter is definitely a worthwhile investment.
Other advantages of pallet inverters summarized at a glance
Increased efficiency: a pallet inverter enables more efficient pallet handling by facilitating the turning or flipping of products for proper storage. This can lead to faster processing and therefore higher productivity.
Easy replacement of defective pallets: With a pallet inverter, damaged pallets can be replaced with ease. This can reduce downtime and increase efficiency.
Reduction of physical strain: Using a pallet inverter reduces the physical strain of manual labor. This can lead to reduced sick time and increased job satisfaction.
Flexibility: pallet inverters can be used in a variety of industries – from food and pharmaceuticals to retail stores and warehouses.
Safety: A pallet inverter can help increase safety in the workplace. It minimizes the risk of accidents that can occur due to improper lifting or moving of heavy pallets.
Cost savings: By improving efficiency and reducing downtime, a pallet inverter can help reduce operating costs.
We offer the following types of pallet inverters
Mobile pallet inverter
Mobile pallet inverters are designed to be moved around a warehouse or distribution center. They are equipped with wheels and can be operated by a single person. Mobile pallet inverters are ideal for environments where space is limited or where pallet loads need to be turned at various locations within the facility.
Stationary pallet inverter
Stationary pallet inverters, as the name implies, are fixed in one location. These machines are typically larger and can handle heavier loads than their mobile counterparts. They are often integrated into a production line or used in a specific area for turning or replacing pallets.
Stationary pallet inverters can be equipped with different functions. For example, some models have a clamping device that holds the load securely during the turning process, while others use a turntable or a combination of both. The opening range and load capacity of stationary pallet inverters can vary depending on the specific model.
Both mobile and stationary pallet inverters help increase efficiency and reduce manual labor in various industries, including food and beverage, pharmaceutical and manufacturing.
Pallet inverter for forklifts from Baust
Many companies today rely on efficient warehouse management to optimize their processes. A pallet inverter for the Baust forklift is a popular tool for turning pallets quickly and safely. This not only saves time, but also money and space. A pallet inverter is usually easy to use and can be attached to almost any forklift truck. It makes it possible to transport and stack pallets safely. With a pallet inverter for the forklift from Baust, even heavy objects can be moved without any problems, making the work easier and faster.