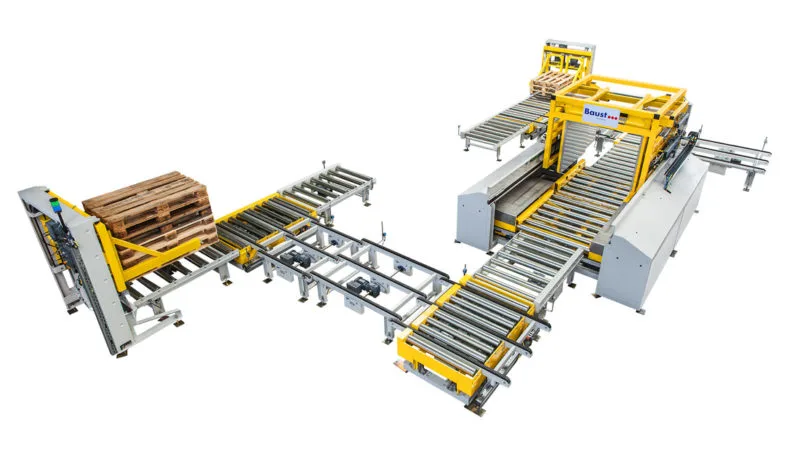 Pallet changers
Safe pallet changing in every branch of industry
Baust offers a wide choice of high performance machines in the field of pallet changers. No matter how varied the differing fields of application are, the Baust pallet changers are simple to operate, treat the goods gently and offer the highest safety standards. Whatever the focus, whether it is the adherence to strict hygiene regulations in the pharmaceutical or food industry, or the trouble-free operation in warehouse and logistics management, the Baust pallet changers are used in a wide variety of industries. Choose your Pallet changer and get in contact.
Repalletize processes with pallet changer
Complete systems for the material flow
Planning for automation and conveyor technology for your palletizing system

Pallet changers with the clamping method
Palletize robust goods quickly and cheaply
Side clamping of the goods
Simplest and cheapest option for particularly robust goods
pallet inverting: Ideal for palletizing cardboard boxes and boxes
Lowering and exchanging the pallet using a hand pallet truck or a lifting roller conveyor
Performance: up to 50 changes per hour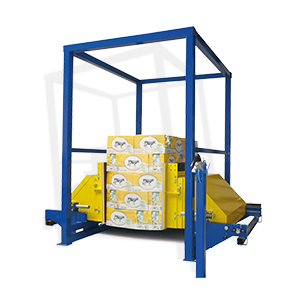 The PW 500 offers the simplest and therefore most economical variant of palletizing and is particularly suitable for pressure-stable and insensitive goods that can withstand a lot.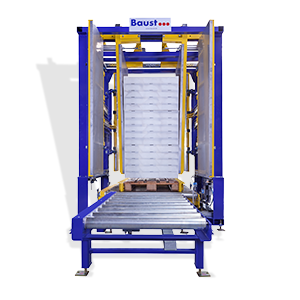 The most efficient solution to get robust and pressure resistant goods from one pallet to another fully automatically. The PW 500 Inline offers the proven clamping method for conveyor lines.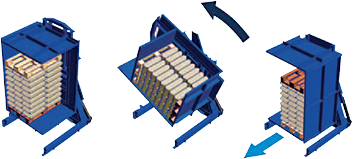 Pallet changers with the inverting and tilting method
Suitable for many pallet sizes
Rotate or tilt the goods by 90 to 180°
Ideal for palletizing sacks and big bags
Overhang of the goods is not a problem
Reliable even with poor pallet quality and different pallet dimensions
Performance: up to 55 changes per hour

Pallet changers with the pushing method
Gentle repackaging of sensitive goods
Push the goods onto a lower target pallet
Particularly gentle handling of the cargo
Ideal for sensitive goods
Reliable palletizing with incomplete and incomplete loads
Performance: up to 60 changes per hour
Powerful pallet changers for every industry
Pallet changers are used to repalletize sensitive goods and work more efficiently. In particular, the devices are used in the pharmaceutical and food industries, as they are compatible with the high hygiene regulations of these sectors. Pallet changers are characterized by their particularly gentle handling of goods and thus by compliance with a high level of safety. Pallet changers are also used to stack goods and exchange products. But even if a shipping pallet becomes necessary for transport, a pallet changer makes the changeover particularly efficient and cost-effective. In warehouse logistics, it is often necessary to change the location of products, for example, by correcting the orientation or changing the sequence. Pallet turners avoid burdensome and time-consuming manual work without losing the gentle handling of sensitive goods.
Common methods for pallet changers
Pallet changers are used in many different areas and offer new possibilities for the automation of logistics and transport processes in all industries. Typically, a pallet changer uses either the clamp method, the push-over method, or the turn-and-tilt method. Pallet changers that work with the clamping method are particularly well suited for working quickly and inexpensively. However, these devices are more suitable for robust goods than for sensitive goods. The products are clamped laterally, and up to 50 changes per hour are possible with our powerful devices. The pallet is lowered and exchanged, for example, by means of a lifting roller conveyor. Thus, pallet changers using the clamping method are the best way to automate the repalletizing of robust goods.
Overshifting method for pallet changers
In contrast to the clamping method, this method is exactly the right one if you are repalletizing sensitive products, such as in food transport or for the pharmaceutical industry. In this process, the products are pushed onto a lower plate, thus ensuring maximum safety for sensitive goods. In addition, the over-palletizing method can be used when the load is patchy or incomplete, whereas here the clamping method is not a good solution due to lack of stability. With a performance level of up to 60 changes per hour, you will not lose any time even if the products in question are handled very gently, and you can work just as efficiently as with more robust goods. Just as for the clamping process, different devices are available from us for pallet changers with overshifting process. We will be pleased to advise you individually on their special application possibilities and advantages.
Pallet changers – flexible options for automation
The third standard method for pallet changers is the turning and tilting method. The turning device is ideal for unusual or irregular formats, because even with different pallet dimensions or overhanging goods, there is neither a delay in performance nor reduced safety of the goods. The methodology is also ideal for bagged goods or big bags, as well as for poor pallet quality. The goods are tilted by 90° to 180°, which also allows a high output of up to 55 changes per hour. Please contact us for an individual consultation, in which we will determine your needs for pallet turners and inform you about the suitable products. Of course, we can also offer you hybrid solutions or complete systems if you want to work with a variety of products and reduce your expenses when purchasing the equipment.