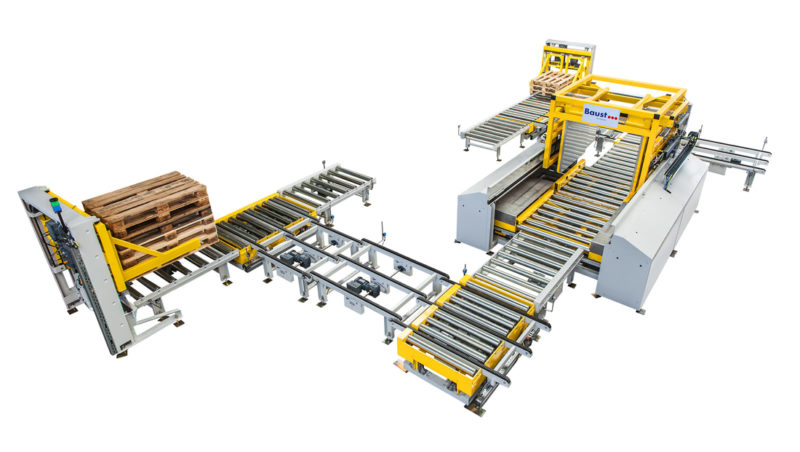 Pallet changers
Safe pallet changing in every branch of industry
Baust offers a wide choice of high performance machines in the field of pallet changers. No matter how varied the differing fields of application are, the Baust pallet changers are simple to operate, treat the goods gently and offer the highest safety standards. Whatever the focus, whether it is the adherence to strict hygiene regulations in the pharmaceutical or food industry, or the trouble-free operation in warehouse and logistics management, the Baust pallet changers are used in a wide variety of industries.
Repalletizing processes with pallet changers

Pallet changers with the clamping method
Palletize robust goods quickly and cheaply
Side clamping of the goods
Simplest and cheapest option for particularly robust goods
Ideal for palletizing cardboard boxes and boxes
Lowering and exchanging the pallet using a hand pallet truck or a lifting roller conveyor
Performance: up to 50 changes per hour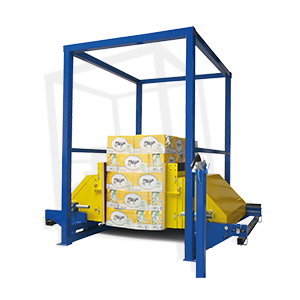 The PW 500 offers the simplest and therefore most economical variant of palletizing and is particularly suitable for pressure-stable and insensitive goods that can withstand a lot.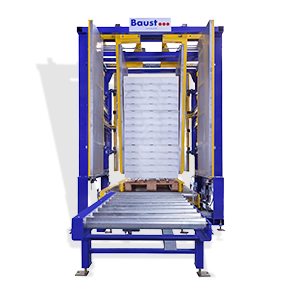 The most efficient solution to get robust and pressure resistant goods from one pallet to another fully automatically. The PW 500 Inline offers the proven clamping method for conveyor lines.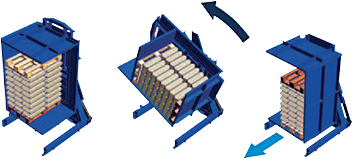 Pallet changers with the inverting and tilting method
Suitable for many pallet sizes
Rotate the goods by 90 to 360 ° or tilt them by 92 to 135 °
Ideal for palletizing sacks and big bags
Overhang of the goods is not a problem
Reliable even with poor pallet quality and different pallet dimensions
Performance: up to 40 changes per hour

Pallet changers with the pushing method
Gentle repackaging of sensitive goods
Push the goods onto a lower target pallet
Particularly gentle handling of the cargo
Ideal for sensitive goods
Reliable palletizing with incomplete and incomplete loads
Performance: up to 60 changes per hour