Palletizing systems automation | Palletizer | Palletizing machines | Complete Systems for material flow
Logistics know-how from a single source
The experienced consulting team from Baust determines your individual requirements and recommends tried and tested solutions even for the most demanding tasks. Structures that are precisely tailored to the intended use ensure the integration of functional details in your system. A fully automated palletizing system and coordinated automation for the highest demands.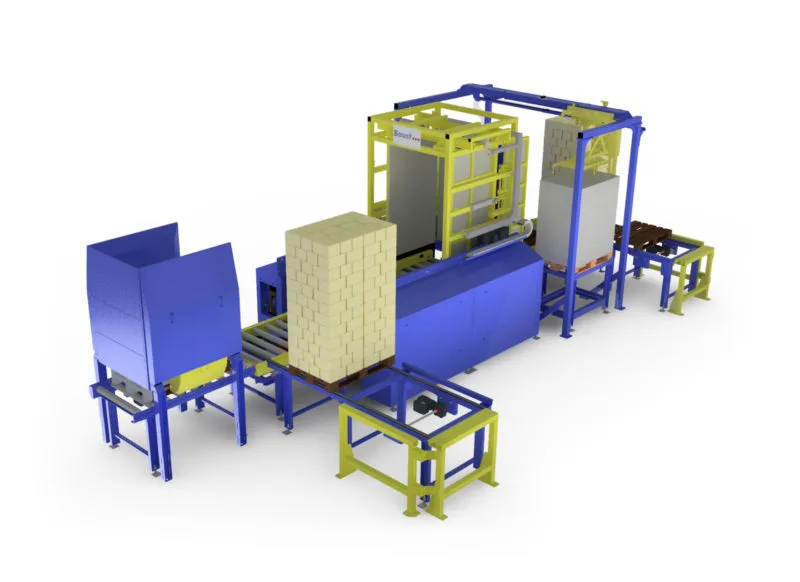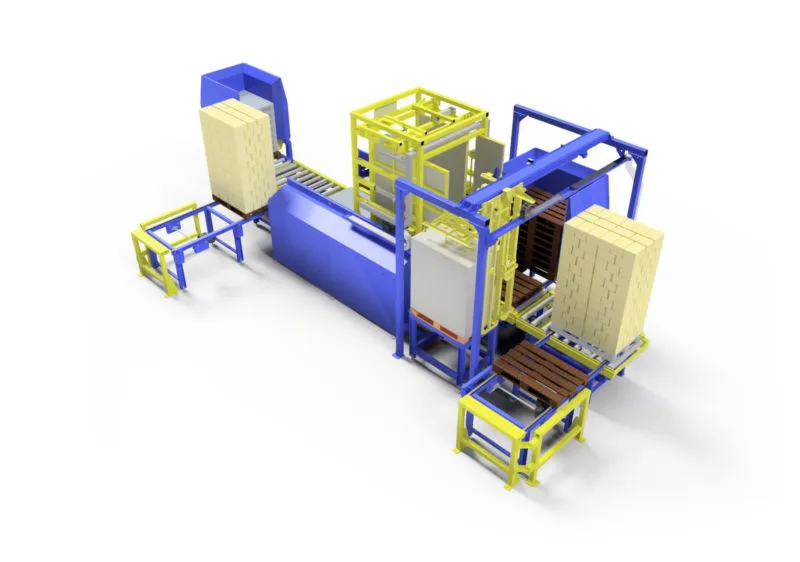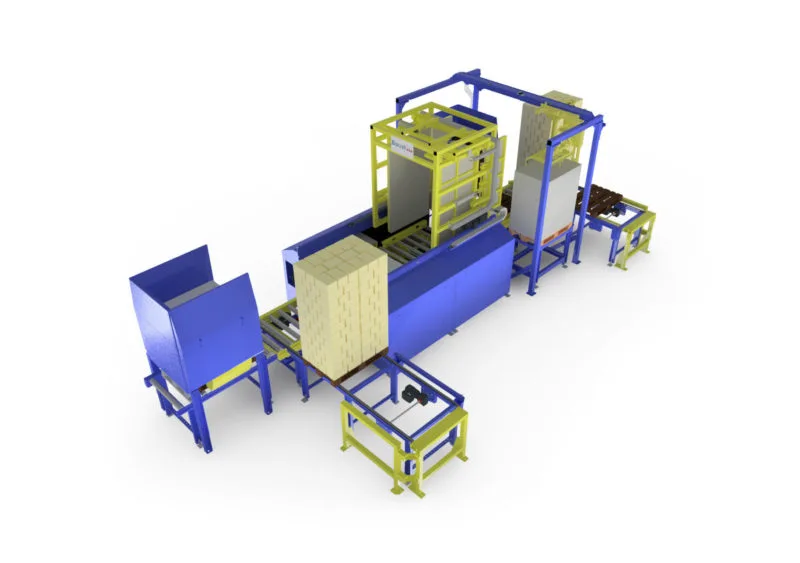 Palletizing systems automation: We plan your system with conveyor technology from a single source
The heart of our complete systems is always a machine for a specific application, which requires a great deal of engineering and know-how. The entire construction planning, development, production, testing and pre-assembly are carried out centrally at our site. You too can benefit from modern and qualitative palletizing systems.
Services that are available on request for all machines and systems:
Consulting & project planning
Conception
Layout planning
Cycle time optimization
Control and programming
Quality management
Factory acceptance test FAT
Installation, commissioning
Final acceptance
Training
Aftersales management
Service & maintenance
Request a non-binding offer now for a BAUST complete / palletizing system
Fully automated palletizing system
We would be happy to advise you on all forms and variants of the fully automated palletizing machines and palletizing systems. Just give us a call or use our contact form.
Fully automated palletizing system from Baust – turnkey and optimally integrated
Specialized in the individual planning, construction as well as assembly and maintenance of the palletizing systems, we at Baust are the reliable and flexible partner who can even meet your unique requirements. Adapted for every industry and configured for every purpose, we provide you with a complete material flow system that you can design exclusively according to your needs. We support you with our specialist knowledge, experience and engineering skills in order to realize and test the palletizing system of your ideas. The integration of innovative pallet changers, sophisticated conveyor technology, selected functional details and other accessories make your palletizing system perfect. At Baust you get a competent solution from A to Z from a single source, consisting of the conception, cycle optimization to final acceptance and training. This means that the palletizing system can be commissioned without any problems and ideally tailored to your requirements.
The range of services for the palletizing systems
Depending on the area of ​​responsibility and requirements, we can draw on a broad pool of technical finesse and functional machines in order to develop the complete system for your project. Our consultants and designers work hand in hand to set up your palletizing system efficiently and economically and use the most modern automation to make your systems work efficiently and safely. After a free initial consultation and specification of your plans, we will create a sketch with you with the necessary machines and accessories. If you wish, we can work together to find solutions, even for the most complex logistics tasks, and produce them especially for you in our engineering department. After the cycle analysis, we optimize your palletizing system with the latest control technology and ensure seamless integration into your IT environment, for a harmonious and incident-free process. Finally, we equip your palletizing systems with a large selection of protection and safety technology so that they are ready to use.
The high-quality main components for your palletizing system
At the beginning of the consultation, industry-specific record changers assigned to the areas of responsibility are presented, from which you can choose. Depending on the area of ​​application and the type of product, the core of your complete system can be determined. The pallet changer with clamping method is suitable for robust goods such as boxes or cardboard boxes that are transported on the pallet without any gaps. A palletizing system with the turning and tilting method, on the other hand, is particularly useful for overhanging goods or unstable goods such as barrels and bagged goods. Again, palletizing with the push-over method is often used in the pharmaceutical industry, as it has proven itself particularly for sensitive products. You can use your new palletizing system either for a convenient pallet change in incoming goods or equip it with some additional features and use it as a pallet change lock system for the clean room or between production and warehouse.
Palletizing systems for your logistics project
In the next step, further process-related devices can be added and the method of the conveyor technology can be determined and supplemented with additional material. Upstream and downstream processes can be integrated for your material flow system and additional machines such as the centering station, the trolley, the pallet magazine and the film winder can be added. The palletizing system ensures optimal logistics management in your company and accelerates individual processes by connecting and combining them with efficient conveyor technology. Find the right one for your palletizing systems from the basic components such as roller or chain conveyors and turntables or corner transfer units. With Baust you receive technically experienced advice and future-oriented complete systems, which we combine with excellent service and aftersales management.