Baust Material Flow Systems | Conveying and storage technology
Your Partner for material flow systems and pallet conveyor systems
In order to do justice to the diverse requirements of effective transport and logistics management, Baust Material Flow Systems for material flow planning offer you the following products: pallet changers, all-sides centering stations, elevators, shuttle cars, drum palletisers.
Our range of products is extended with products such as pallet magazines, pallet turners, pallet doublers, roller conveyors, chain conveyors, turntables, transfer units, lifting stations, centring stations, shuttle cars and control modules. You can see that the flow of goods and materials is secured with individual products and supported effectively.
We also develop complete systems for material flow. We plan your fully automatic pallet changing process with conveyor technology from a single source.
Superlative! // Award-winning! // Fabulous!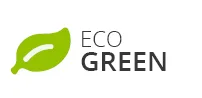 Our Products
MATERIAL FLOW SYSTEMS
Engineering­ state-of-the-art
Baust products are reliable and innovative systems to increase your profitability. Individual solutions with extensive engineering based on a large modular system ensure continuous maximum performance in your processes.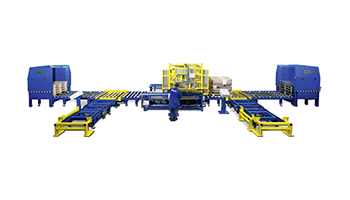 No matter whether clamping, pushing, turning or tilting: Everything is possible with the pallet changers from Baust.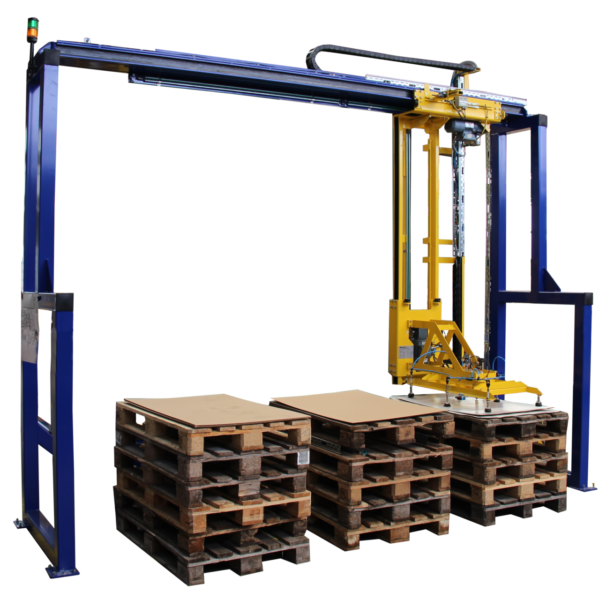 The slip sheet dispenser is the ideal addition for each automated palletizing system.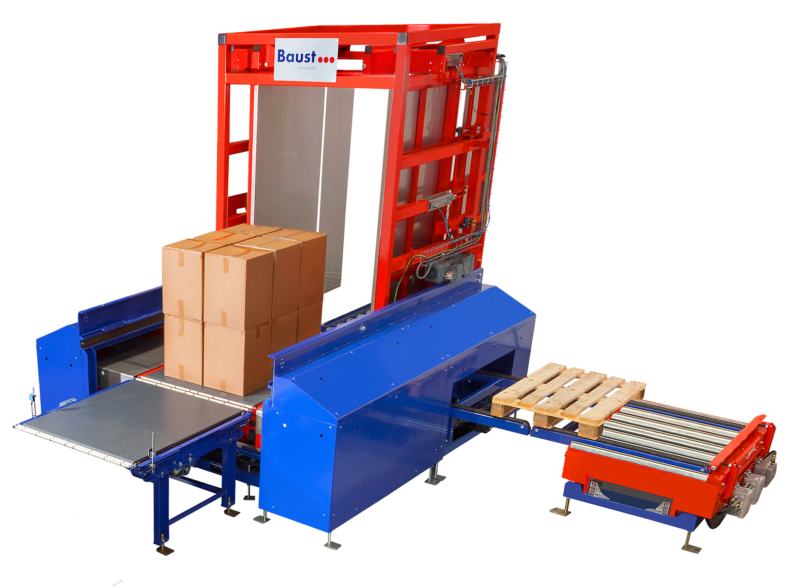 High-performance process for automatic palletizing and depalletizing for effective intralogistics.
Complete systems for the material flow
Planning for automation and conveyor technology for your palletizing system
Continuous product development and individual solutions made to measure
Often it is not the proven ways that lead you to success. Rather, it is the individual paths one takes to search for solutions that will advance you and your company and give you noticeable advantages in the market. Continuous product development is our passion, the exact implementation of your requirements is our competence. Take us at our word and challenge us!
Recently, the Baust team completed a challenging project near Geneva. In addition to high demands on the quality, safety and ergonomics...
WORLDWIDE BRANDS
who rely on Baust material flow systems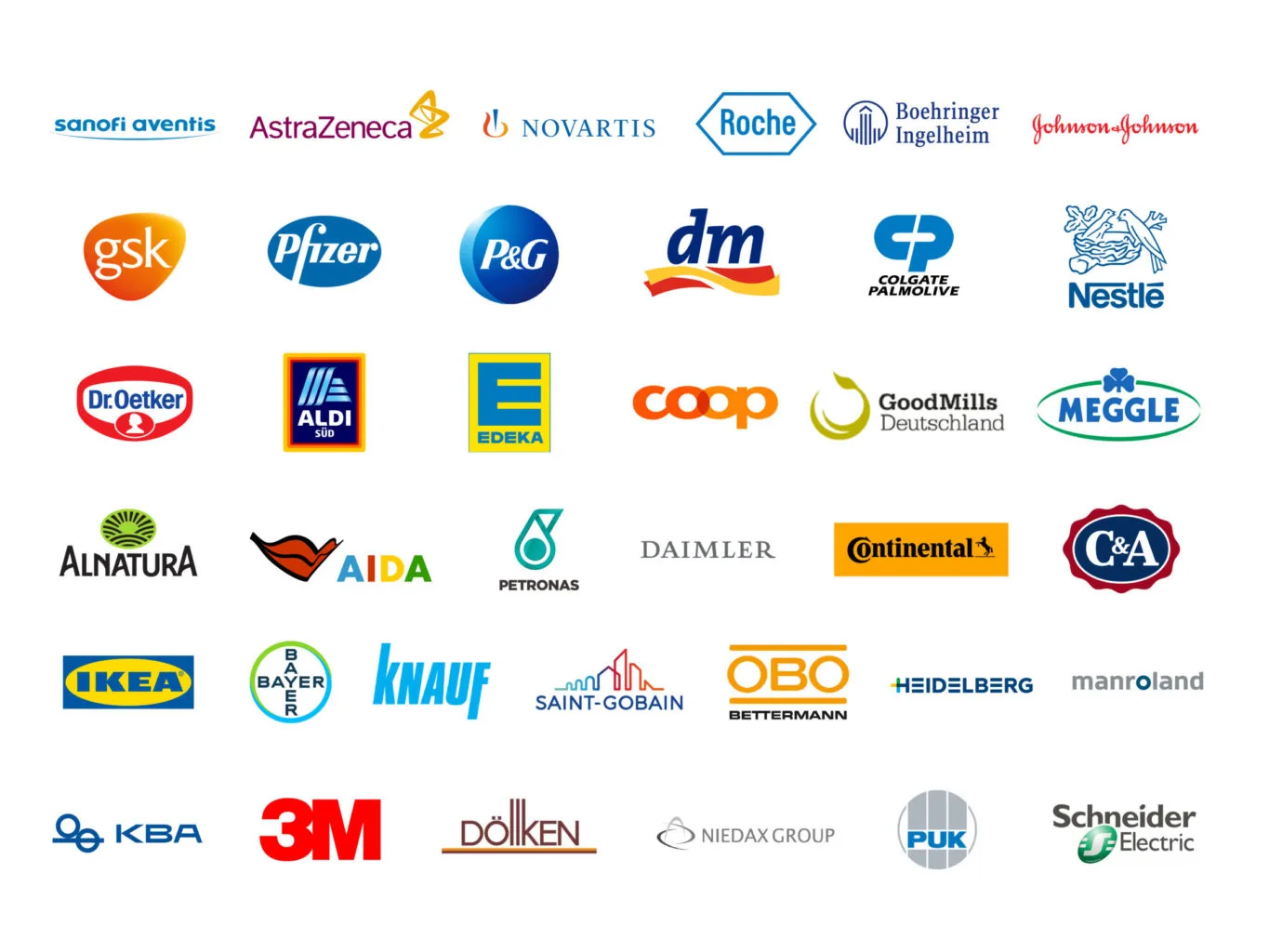 Material flow systems represent a logistics chain that starts with the supplier and ends with the customer. Baust supplies the appropriate technical components for smooth processes.
Baust supplies the appropriate technical components for smooth processes. Material flow or material flow systems represent a logistics chain that starts with the supplier and leads to the customer in the last step. Several processes are part of a material flow system, such as the extraction and processing of raw materials, packaging, warehousing to distribution to suppliers (distribution), as well as shipping to the end customer. Storage and transport are also important processes, where we develop and produce innovative systems in machine technology and plant engineering. In material flow planning, we offer reliable systems for many industries.
True to the motto "Engineering – state-of-the-art", our products in the material flow system include:
Pallet changer
Palletizers & depalletizers
Cover sheet applicators
Pallet aligner
Centering station
Pallet doffer
Drum palletizer
Traversing carriage
Pallet magazine
Pallet turning station
Vertical conveyor
Basic components
Control equipment
Up to complete systems for material flow in the form of semi-automatic or fully automatic palletizing systems. These internal material flow systems ensure the transport of various materials and goods within the company. Lift trucks, forklifts or modern conveyor technology are classically used for transport.
Service providers offer appropriate material flow planning and material flow analysis to optimize these workflows and processes. Here, internal as well as external components are examined and a corresponding optimization is developed. The results of the material flow analysis provide the company with important information about the efficiency of the company and possible process errors and weak points in the process chain. Specialists and managers can initiate changes on the basis of this analysis and thus optimize the processes in the warehouse and logistics.
Baust material handling systems are accordingly the ideal component for efficient, reliable and safe conveyor and storage technology worldwide. With our hybrid pallet changers, several processes (clamping, turning/tipping & pushing) can already be combined in material flow planning. This saves space, increases utility and reduces investment costs.
Palletizers & depalletizers for automatic palletizing of Baust also offer further advantages as high-performance processes for effective intralogistics.
Let us advise you on your material flow system without obligation.
Pallet Conveyor technology: What are material flow systems?

Material flow systems are systems that track the flow of materials from a source to a finished product. They help organizations to optimize existing material requirements, inventories and resource efficiency. Material flow systems provide an integrative view of the entire supply network, enabling companies to establish local efficiencies using insights into material flow and personal needs at every corner of the supply network. Material management can be made more efficient and sustainable without compromising on customer service. This ultimately translates into cost savings and productivity gains for businesses.
Material flow systems: What is pallet conveyor technology?
Pallet conveyor technology is an important part of the material flow system. Pallet conveyor technology refers to the conveyance of pallets, containers and similar load carriers on a specified transport route. A pallet conveyor system uses different types of conveyors such as roller conveyors, chain conveyors and pallet boxes to transport goods. Pallet conveyor technology helps companies to control the circulation of products faster and more efficiently. If well planned and implemented, pallet handling technology can optimize the flow of materials and enable continuous interaction with the entire logistics hub.
Pallet conveyor technology for an efficient process
Material flow systems offer an efficient solution for material transport in production and logistics environments. The pallet holder on one side makes it easier to insert and eject pallets by preventing the pallet from deforming. With pallet conveyor technology, the flow of many productions can be significantly improved, since pallets can be moved through the processes more quickly. The step drive based pallet row allows automated transition of pallet types and serves as a safer alternative to manually operated conveyors as less effort is required. Overall, pallet handling technology can improve the handling of goods and materials and the workflow in the applicable environment.
Pallet conveyor systems: What is a pallet turner?

Pallet turners are an essential part of pallet conveyor systems. They help turn pallets on pallet stackers and stow them in the right position. Pallet turners allow more efficient storage methods, such as pallet stacking, to be used, allowing more pallets to be stored in less space. In addition, the pallet turner minimizes the risk of accidents and injuries by protecting workers from heavy lifting. So, pallet turners have played a crucial role in pallet conveyor systems by reducing human effort and ensuring workplace safety.
Pallet conveyor technology: What are palletizers and depalletizers?
Palletizers, also known as palletizers or palletizers, line up pallets of products. Palletizers are efficient machines that are indispensable in a modern factory/warehouse. A palletizer is responsible for the puncto-hole process, a process for creating pallets of products of different sizes. The palletizer attaches products to the base or frame of the pallet, allowing for repeatable manual or robotic loading and unloading. In contrast, a depalletizer focuses on emptying pallets; it can be used manually or automatically. The depalletizer protects the rails of the vehicles and reduces the work required to detach the pallet. Its load setting and features relieve the operator once the pallet has been emptied.
Disinfection locks as a supplement for material flow systems
Disinfection hatches offer a useful addition to material handling systems to improve efficiency and protect sanitary integrity. A disinfection sluice normally works by means of disinfectant sprayers that automatically disinfect the room depending on what is introduced into the system. Our disinfection locks work with UVC rays. Disinfection locks offer a reliable way of quality assurance and hygiene, especially in areas where people come into direct contact with food processing material or where sensitive biological components have to be transferred.
Cover sheet feeder for automated logistics
Top sheet feeders ensure that material flow systems function efficiently and correctly. These special trailers are placed on pallets and automatically monitor the flow of deliveries within the logistics process. Cover spreaders provide accurate data on the status of order history, freeing workers time for other important tasks. With cover sheets, logistics experts can also identify potential cost savings by making optimal use of complex means of transport. All in all, top sheet feeders are an indispensable technology for ensuring efficient logistics processes.
Pallet aligner in the material flow system

Pallet aligners are an essential part of material handling systems. For example, they are used in warehouses and factories to position pallets safely and efficiently to facilitate pallet circulation. Pallet aligners automate the processing of pallets at destination while minimizing downtime when handling heavy pallets. There are different types of pallet aligners, each with their own specific needs.
What are centering stations?

Centering stations are an essential part of modern material flow systems. They are used to scan and verify goods and products on their way to their destination to ensure the reliability of delivery and the condition of the goods. Centering stations are able to scan multiple items at once and run multi-step processes as needed. Therefore, they support cost savings through minimized human intervention while offering a better standard of quality. These systems make a significant contribution to the efficiency of modern material flow.
Pallet doubler in the material flow
Pallet doublers, also known as pallet handlers, are an efficient way to manage material flows. This type of computer controlled device automatically moves pallets from one station to the next and allows changeover operations such as splitting and assembling pallets within the pallet handling system. Pallet doublers significantly reduce the time required as the switch from manual handling to automation has been made. It not only saves labor but also increases productivity and overall safety and security of your pallet.
What are drum palletizers?

Drum palletizers are machines that efficiently move drums or other containers on pallets. They offer an optimal way of transporting kegs without liquid or container quantity restrictions as the kegs are stacked in reusable keg pallets, which are ideal for deliveries and goods shipment. Drum palletizers can transport drums standing or lying down and use advanced technologies to ensure full safety when handling drums. With this system, any workflow can be completed more quickly, increasing the efficiency of the operation.
What are conveyor carriages?

Transfer carriages form a central element of modern material flow systems. They are used to transport goods and goods over shorter and longer distances. Transfer cars are very versatile in terms of the type and size of loads they can carry. There are transfer cars for special tasks such as trucks, station linking and heavy-duty transfer cars. Transfer cars are available both as manual modules and as automated solutions that can react to spatial structures or progress plans. Modern transfer cars are equipped with tracking systems and other optional features such as drive systems, on-board computers or individual drives. Transfer cars therefore enable companies to use the hardware in the best possible way with an efficient workflow of the entire material flow system.
Material flow systems: pallet magazine
Pallet magazine is an efficient material handling system that can receive, transport and store pallets. It has many applications in modern industrial operations, particularly in areas such as warehousing, shipping and packaging, and within supply chain logistics. A pallet magazine enables automated picking during loading and unloading, resulting in a more efficient production and delivery process chain. Pallet magazines are particularly useful when handling pallets of different sizes and weights, as they offer modular structures with variable dimensions via kits and segments.
Pallet turning stations for special needs

Pallet turning stations are a versatile technology that can handle multiple pallets at once in material handling systems. This solution enables companies to manage their material flow effectively and efficiently and is part of a series of expandable technological components tailored for specific industrial applications. Pallet turning stations vary in size, load capacity and other factors depending on the use case, allowing companies to accelerate, manually rotate and reposition pallets according to logistics needs.
Pallet conveyor systems and the vertical conveyor
Elevated conveyors, also known as descending chain conveyors, are a very efficient way of transporting materials in modern material handling systems. They are mainly used in the automotive, small parts and electronics industries. Vertical conveyors are mainly used in the vertical connection area of production lines and warehouses. Drop chain conveyors are quiet, energy efficient and require little maintenance. In addition, the intensity of the conveying process can be adjusted to given requirements with the help of variable speed control and stop or drive functions. Vertical conveyor technologies thus represent an essential component of modern material flow systems.