Disinfection lock as pioneers in modern palletising systems
Intelligent and efficient disinfection
Material sluices for disinfection – before raw materials, goods or load carriers can be brought into hygienic areas, they must be disinfected. Liquid disinfectants or thermal disinfection processes are usually the first choice. The environmental, health and product-related impact is always an unpleasant side effect.
Baust material locks for disinfection offer a convenient and effective solution when it comes to minimising / eliminating / inactivating microorganisms such as bacteria and mould spores. And all this without any impact on people, the environment or the product.
Regardless of whether pallets, containers or large packs need to be treated, the Baust material airlock can be used. The active principle is confirmed by certified laboratories.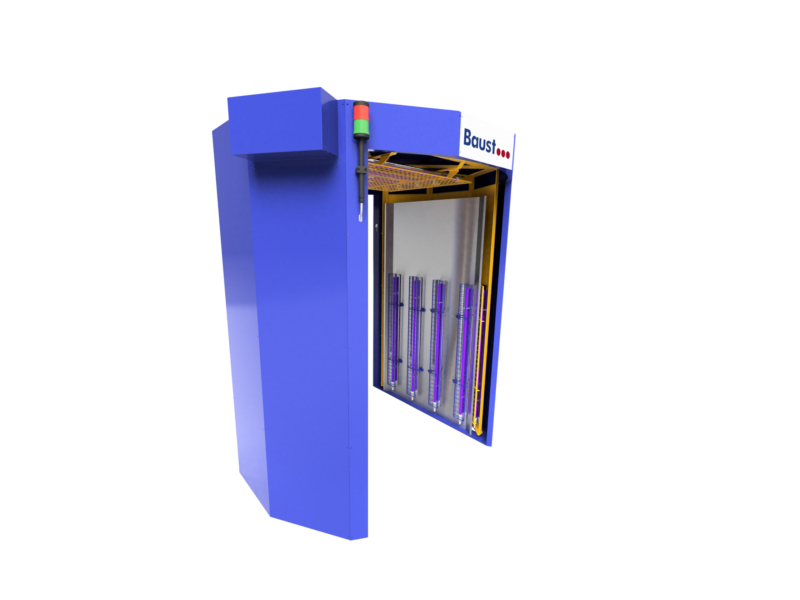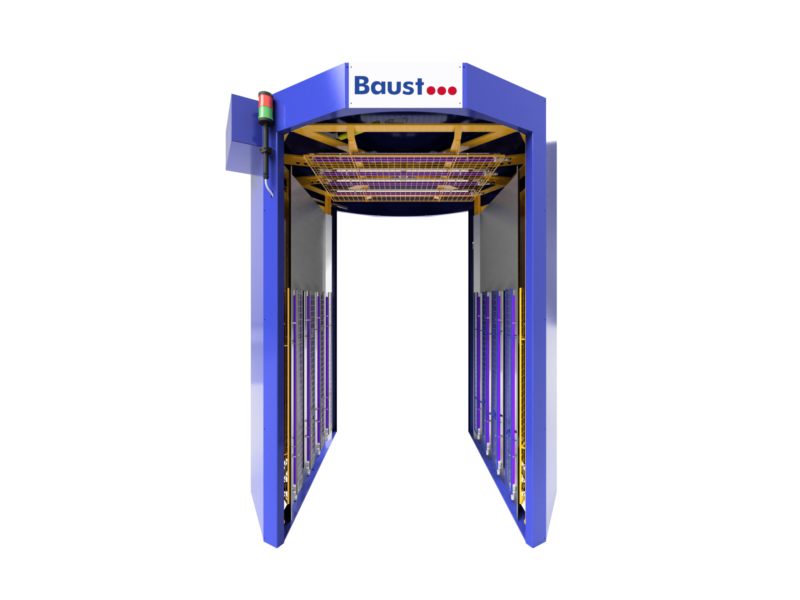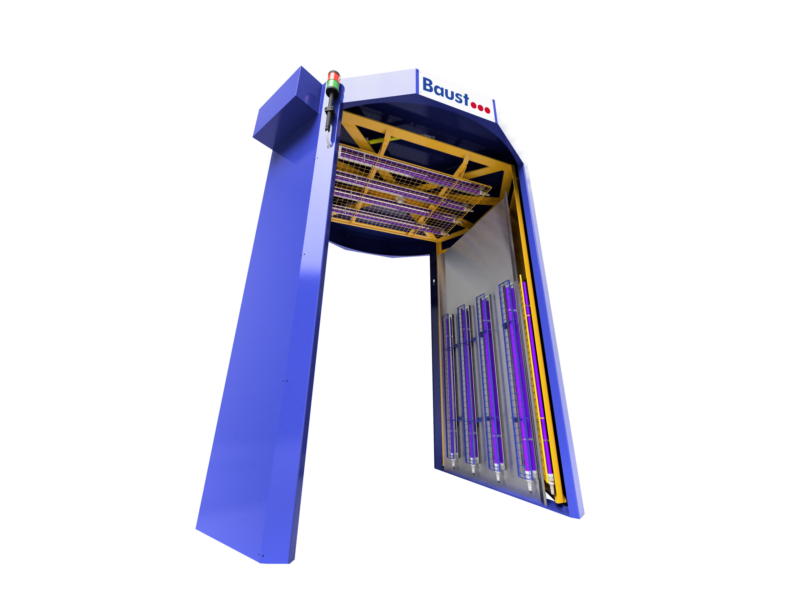 Fields of application:
Food industry
Pharmaceutical industry
High hygiene areas.
---
Principle information:
With the help of UV-C lamps, microorganisms such as bacteria, mold spores and germs are killed.
Thanks to the short-wave and high-energy UVC light, unwanted microorganisms can be eliminated at a rate of 99.9% (laboratory-confirmed).
The effectiveness of this method is strongly dependent on the distance of the light source from the contaminated surface as well as on the exposure time of the light. Baust has optimized this.
UVC beams cannot pass through any materials and therefore do not have any effect on the material that is being disinfected or its contents. The human eye is to be protected by using glass screens, shutters, or similar devices to prevent direct eye contact.
The principle described is less expensive, more effective, and safer than the previously known disinfection spray method.
Special features of our material locks & sluices:
Fast and effective process
No influence on the product to be disinfected
Later integration into existing systems possible
Avoidance of liquid disinfectants
Avoidance of expensive explosion-proof areas (no vapors containing alcohol)
Avoidance of the high-energy thermal influence
No health risks for the operating personnel
No environmental pollution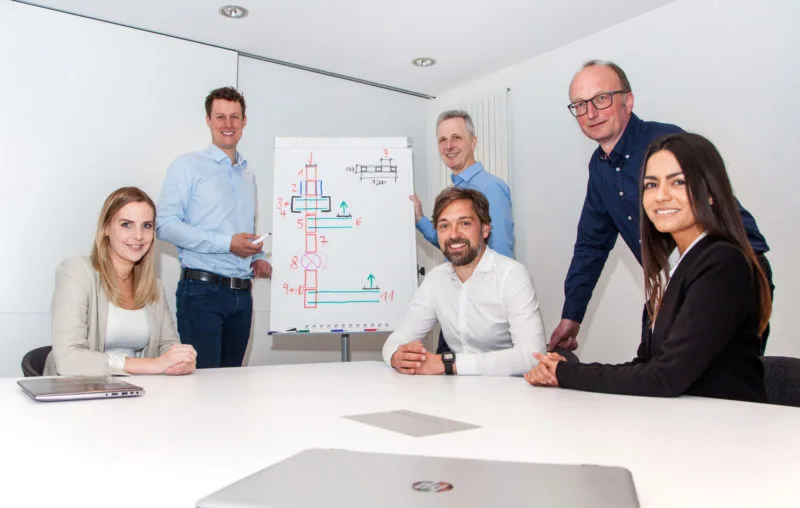 Free initial consultation & technical planning
Kostenfreie Planung der definierten Spezifikationen
Free planning of the defined specifications
Fast, clean and binding development
Non-binding offer and detailed documentation
Technical expertise right from the start
Consulting, planning, production, assembly and maintenance from a single source without subcontractors
Request a non-binding offer for BAUST disinfection locks & sluices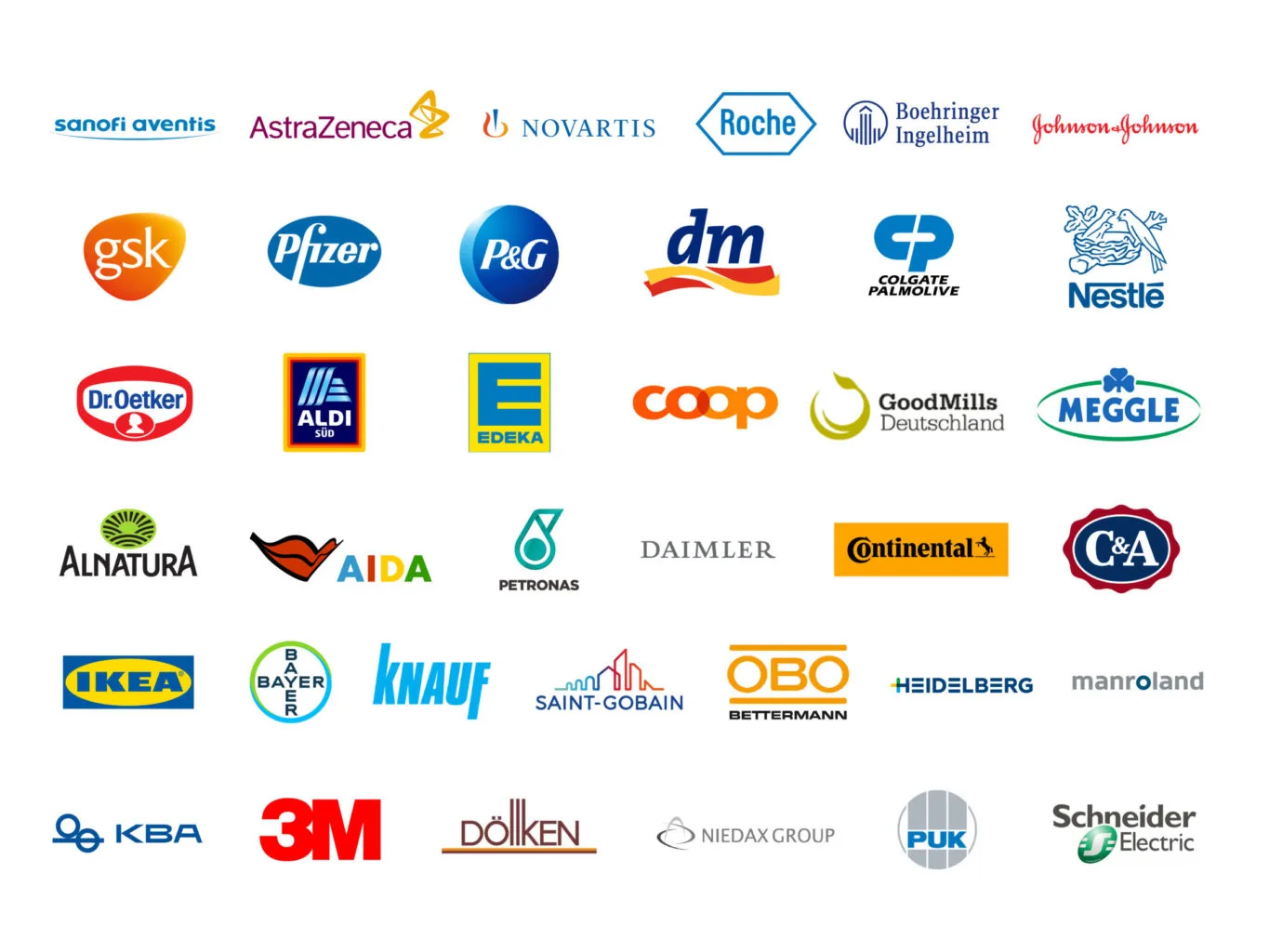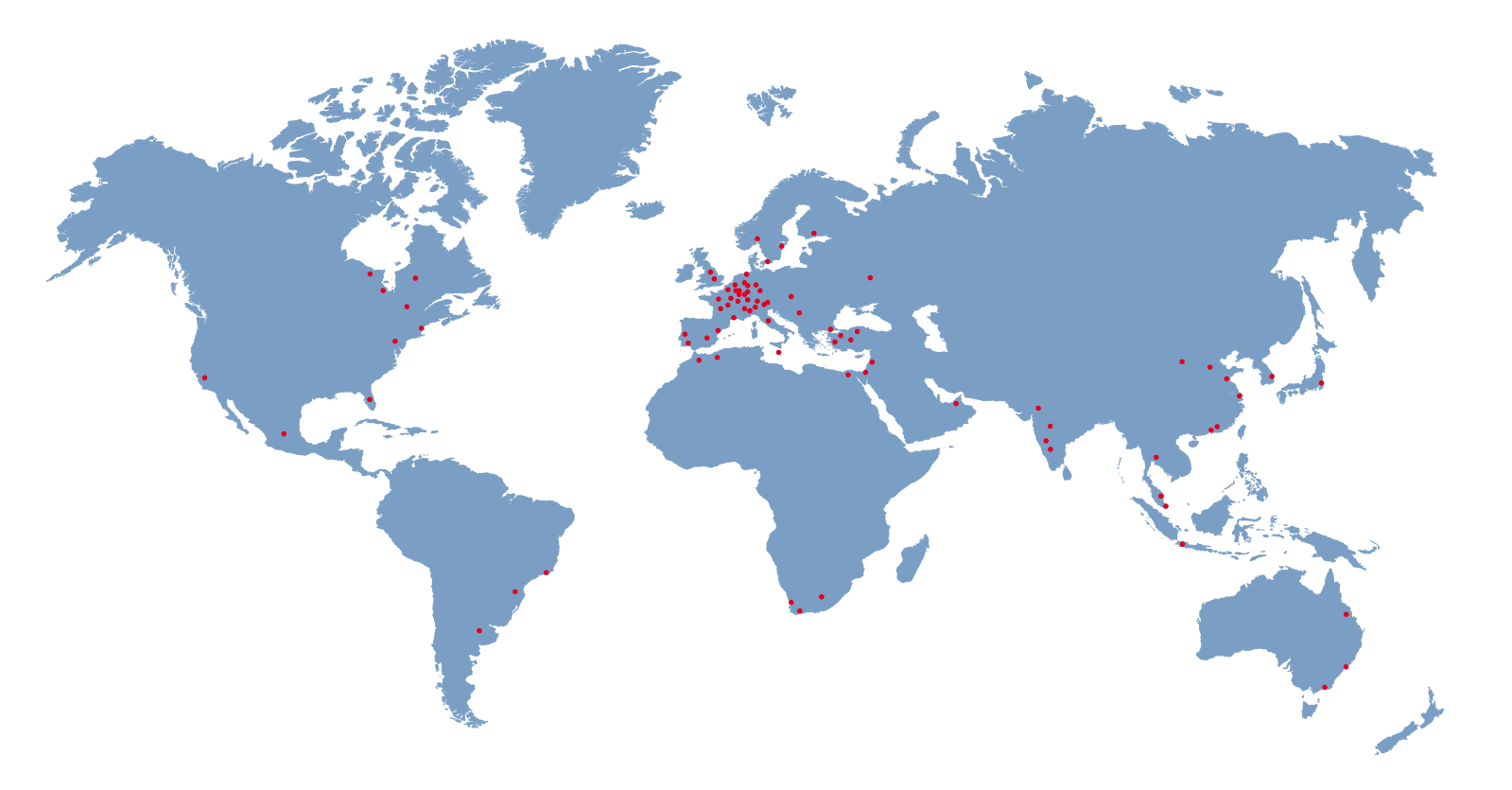 Disinfection sluices are one of the most modern and currently most popular technologies in goods logistics. Would you like to know how you can meet the high hygiene requirements of your goods with as little work as possible? With the help of material airlocks for pallets, goods can be cleaned or disinfected automatically and effectively, which in turn is important for production, storage or delivery. Material airlocks are part of an overall system with functions. One of the latest functions is the Baust disinfection lock.
Everything you should know about disinfection sluices with palletising system:
The Baust material locks for disinfection have been developed according to a very well-engineered principle. They can be set up as a stand-alone solution in the production area or in sluice / airlock rooms. For an efficient and performance-oriented process, however, there is also the possibility of integration into automatic conveyor lines. For this purpose, the material lock can be placed over existing conveyor technology or effectively supplement the material flow with the help of optionally available conveyor technology.
A smart system allows the pallets and their loads to be illuminated from all sides and therefore disinfected. By using a rotating door system, the UV-C beams are sealed off and cannot shine to the outside.
What are disinfection locks?
The need for disinfection has increased significantly over the last two years. In times of the Corona pandemic, disinfection is also more important than ever in goods logistics and should help companies to disinfect their products. In this respect, cleaning and disinfecting goods with extensive alternating transport will also be part of the industrial standards in the future.
Baust has developed an efficient solution for the disinfection of goods for this specific purpose. One of the latest developments is the disinfection sluice for pallets and goods. This is a process station, so-called, which functions as a disinfection cabin and disinfects the pallets together with the load.
How does the disinfection lock work?
The goods disinfection works by use of light waves. A typical procedure would be as follows:
Your pallet is placed in the disinfection sluice. This is done manually by a forklift truck or in combination with an automated system.
The whole pallet, including the load, is disinfected in the sluice room with the help of UV-C light waves.
The pallet can then be removed or leaves the system via conveyor technology.
Baust chose disinfection by light waves because it is a modern alternative to chemical or thermal disinfection. These are UV-C lamps, which have been used since the beginning of the Corona pandemic. UV-C disinfection not only kills bacteria and fungi within a few seconds, but also the Corona virus.
(https://www.bu.edu/neidl/2020/06/6004/).
Advantages of a disinfection lock:
Easy compliance with hygiene standards
Low work effort: no need for individual tedious cleaning of goods
Time-saving: automated and effective disinfection of pallets
Integration into palletising systems / complete systems
Disinfection important for production, storage, deliveries
Individual cleaning designs through modern engineering by Baust
How can the material sluice be integrated into your concept or palletising system?
The material sluice can be a stand-alone solution to complement your existing infrastructure. Furthermore, it is also possible to integrate a material sluice into an existing conveyor system/ palletising system. The concept allows a very simple and flexible integration. If a palletising system does not yet exist, this complete system can be designed by Baust engineers according to requirements.
Some well-known companies are already satisfied with Baust's technologies.
We recommend a free initial consultation to show you in detail the advantages of the design specially adapted to your needs. We have already helped well-known companies to increase their efficiency and reduce their workload. Our services range from consulting and individual planning and installation to staff training, maintenance and support.
Are you interested or would you like to know more about our latest functions for material flow systems, such as the disinfection sluice? Then contact us by e-mail or give us a call.