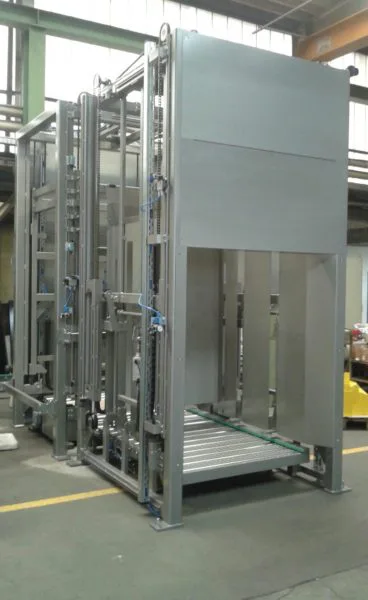 Increased efficiency through an automated pallet warehouse with products from Baust
Anyone who works in logistics and retail knows about the challenges of storing and picking products. To make your warehouse processes more efficient, automated palletizing is the obvious choice. And what could be better than an automated pallet warehouse that is tailored exactly to your needs? Products from Baust help you improve your warehouse processes and store your goods quickly and effectively. Baust's automated pallet warehouse is able to store and manage pallets as efficiently as possible. This saves time and your goods are stored safely and securely. Trust in Baust's experience and quality – so you can rely on smooth warehousing.
Complete systems for the material flow
Planning for automation and conveyor technology for your palletizing system
These are the advantages of our products for an automated pallet warehouse.
An automated pallet warehouse can mean an enormous relief for your company. We are happy to support you in this with our products for automated palletizing. Why should you struggle with manual work when you can benefit from our systems?
The advantages are obvious: an automatic pallet warehouse saves time, costs and nerves. You benefit from faster processing while also reducing the risk of errors. Don't hesitate to contact us to learn more about our automated systems for pallet storage.
Automated pallet warehouse from Baust – take advantage of this opportunity for your company too
An automated pallet warehouse from Baust can offer your company enormous advantages. Automated palletizing saves you time and money by reducing manual labor and minimizing errors.
Automated pallet storage enables more effective and precise storage and picking of products, which impacts the entire operation. Use our advanced technology to optimize your operations and increase the efficiency of your logistics.
With an automated pallet warehouse, you can focus on your core business and concentrate on future growth instead of thinking about logistical challenges.
Automated palletizing – the future of warehousing
Automated palletizing technology has the potential to revolutionize the future of warehousing. With an automated pallet warehouse, companies can optimize their warehousing and speed up processes.
Automated palletizing enables more efficient use of available space and reduces picking errors. In addition, automation makes it possible to increase warehouse capacity, as less space is needed for aisle ways. The networked systems also make it possible to monitor inventory in real time and improve the supply chain.
Overall, automated palletizing offers tremendous potential for those companies looking to take their warehousing to the next level.
WORLDWIDE COMPANIES
that use pallets and trust Baust pallet changer & pallet turner