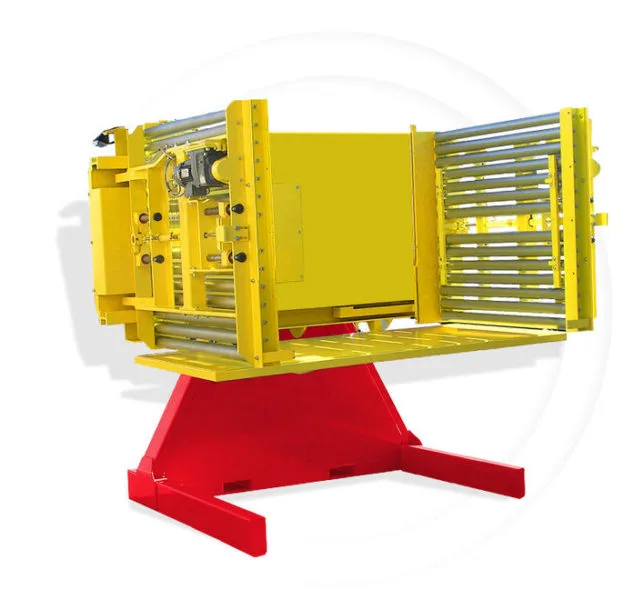 Pallet lift from Baust
Increase efficiency with a pallet lift from Baust
A pallet lift from Baust can help increase efficiency in your company. With a pallet lift, pallets can be effortlessly transported to different levels without the need for tedious manual labor. This saves you time and energy, which you can use instead for other important tasks.
Our pallet lifts are extremely reliable and safe, so you can rest assured that your goods will reach their destination smoothly and without damage. If you want to increase your operational efficiency, a pallet lift from Baust is an excellent choice.
Complete systems for the material flow
Planning for automation and conveyor technology for your palletizing system
Benefits and functionality of pallet lifts
Pallet lifts are an indispensable tool in many warehouses and shipping centers. They are specially designed to safely transport heavy pallets and production materials.
Pallet lifts help increase the functionality of warehouses and shipping centers. They allow goods to be moved and lifted to different heights efficiently and safely.
The use of pallet lifts can also help prevent potential accidents by minimizing the manual lifting of heavy loads.
As a result, pallet lifts are an important part of many warehouse and supply chain processes, and an essential tool for any company that stores and ships goods.
How a pallet lift from Baust can optimize your operations
Using a pallet lift from Baust can be instrumental in helping companies optimize their operations.
With a pallet lift, pallets and heavy loads can be quickly and easily transported to the required floors, minimizing employee time and effort. A pallet lift from Baust can also help optimize space requirements and logistics in the company by using space that would otherwise be needed for classic transport methods. This can help companies become more efficient and productive, and reduce their operating costs.
With a wide range of pallet lifts available, companies can choose the lift that best fits their specific needs. Contact us today for a no-obligation consultation.
The role of the pallet lift in the sustainability of your warehouse management.
An automated pallet lift can help make your warehouse management more sustainable. By having more space in your warehouse, you can better organize and manage your goods, which in turn can help you produce less waste. By using pallet lifts, you can improve your warehouse logistics by optimizing material flow and saving energy. The good news is that we offer several types of pallet lifts that can meet different warehouse needs. So with a pallet lift from Baust, you can not only achieve your sustainability goals, but also optimize your warehouse organization.
WORLDWIDE COMPANIES
that use pallets and trust Baust pallet changer & pallet turner