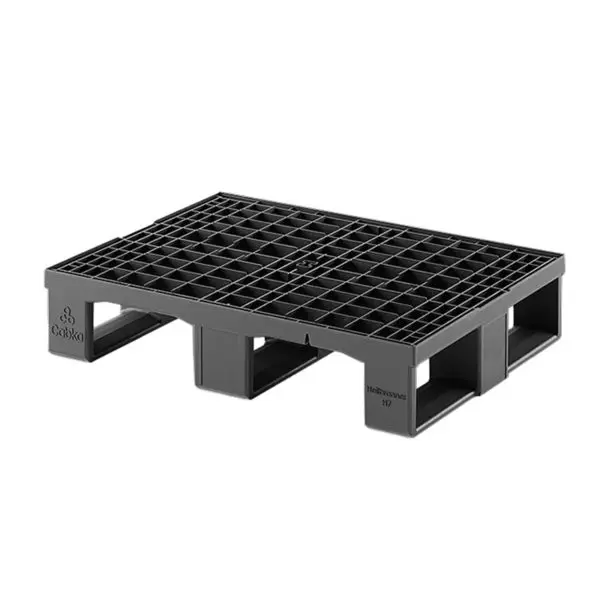 Heilbronn pallet – innovative half pallet from Germany
The Heilbronn pallet is an absolute novelty on the load carrier market
Compared to the conventional wooden pallet, it has a higher breaking strength and is therefore particularly robust and durable. Its stable construction makes it ideal for transporting heavy and sensitive goods. The Heilbronn half pallet makes load carrier management in companies even more effective and sustainable. Thanks to its innovative technology, it is the future of pallet design and represents a sensible alternative to the conventional wooden pallet.
The Heilbronn half pallet is already being used successfully in many companies and its quality speaks for itself. With its environmentally friendly, robust and stable design, the Heilbronn pallet is ideal for the safe transport of heavy goods. With the Heilbronn half pallet, load carrier management can now be made even more efficient, economical and sustainable than before.
Baust does not offer direct pallet purchasing, but does offer the right machines for pallet handling.
» Contact now
Complete systems for the material flow
Planning for automation and conveyor technology for your palletizing system
Advanced Technology with Environmental Awareness of the Heilbronn Half Pallet
The Heilbronn pallet is an impressive example of advanced technology and environmental awareness in German industry. By using recyclable materials and sustainable manufacturing, the Heilbronn half pallet has proven that it is possible to create practical solutions to challenges. Not only is it environmentally friendly, but it is also extremely functional and successful in use. The Heilbronn pallet is proof that innovation and sustainability can go hand in hand and that such important advances in the industry are not only possible but necessary.
In times when sustainability and environmental protection are becoming increasingly important, the plastic Heilbronn pallet is an alternative to the traditional Düsseldorf pallet. With its lower weight and longer service life, the Heilbronn pallet is not only more ecological, but also more economical. Transportation requirements are high and the Heilbronn half pallet is an important component for the safe and reliable transportation of goods. The "Heilbronn" is not only functional, but also extremely robust and versatile. A sustainable and solid product that makes the switch to a modern and more environmentally friendly transport solution worthwhile.
WORLDWIDE COMPANIES
use the pallets and trust Baust pallet changer & pallet turner