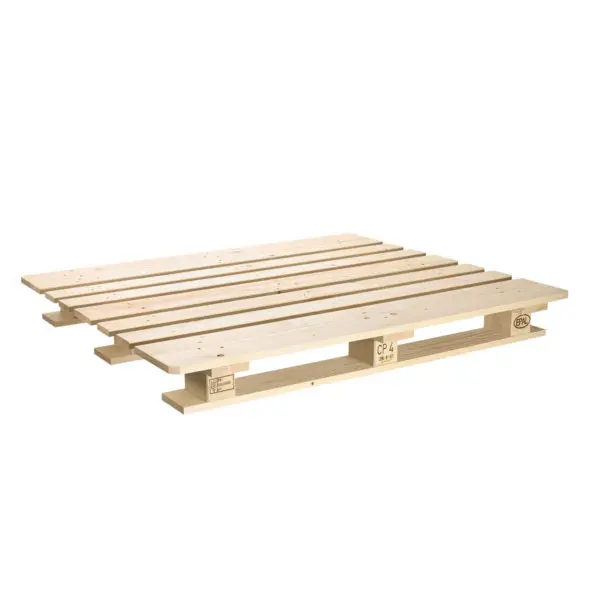 CP4 pallet
The CP4 range is a popular choice for chemical companies. It is robust and reliable and can be used in a wide range of applications
Whether you are in the pharmaceutical, food or petrochemical industry, a CP4 pallet will meet your needs. The CP4 chemical pallet is easy to handle and can be moved by one employee alone.
With its unique design, it is also stackable for efficient transport and storage. Choose the CP4 pallet and you will see why it is preferred by so many chemical companies.
Baust does not offer direct pallet purchase, but the right machines for the Pallet handling.
» Contact now
Complete systems for the material flow
Planning for automation and conveyor technology for your palletizing system
CP4 Chemical Pallet Dimensions
The CP4 chemical pallet is a popular choice for transporting heavy and large items in the chemical industry. Measuring 1,100 x 1,300 mm, the CP4 Chemical Pallet is large enough to carry a variety of goods, while still being light enough to be moved by hand, weighing only 26 kg. The CP4 pallet's rugged construction allows for high load capacity and long-lasting durability, even in demanding transport conditions. For companies that need to move items from A to B on a regular basis, the CP4 Chemical Pallet is a superior choice that can save both time and money.
Field of application of the CP4 pallet
The CP4 pallet is an indispensable tool for transporting bagged goods. Whether it is food, animal feed or chemical materials, this pallet is suitable for any application. With a load capacity of up to 1,500 kg, it is particularly robust and hard-wearing. The CP4 chemical pallet is also suitable for use in racking systems, making it a versatile option for any storage space. Its stability and reliability make it the perfect choice for safe and efficient transport of bagged goods.
For reliable transportation and storage, choose the CP4 pallet. It's easy to handle, cost-effective and versatile enough for a wide range of applications. Make sure your business has the right pallet for its needs with the CP4.
WORLDWIDE COMPANIES
use the pallets and trust Baust pallet changer & pallet turner