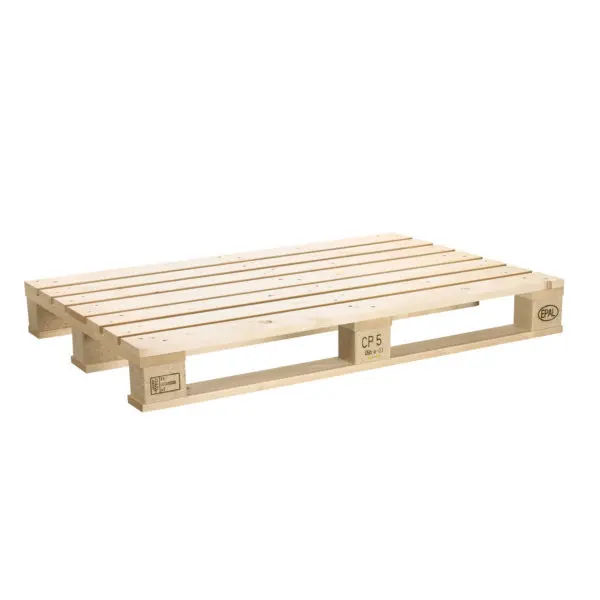 CP5 pallet – versatile use with container size optimization
With the CP5 pallet you have a versatile solution for your storage and transport needs
Optimal container size optimization gives you the option to customize the pallets according to your needs. The CP5 chemical pallet is extremely robust and durable, making it a sustainable option. The easy handling and light weight make it easy to pack and ship your goods. The CP5 pallet revolutionizes your warehouse and transport management and guarantees the safety of your products.
Baust does not offer direct pallet purchasing, but does offer the right machines for pallet handling.
» Contact now
Complete systems for the material flow
Planning for automation and conveyor technology for your palletizing system
The CP5 pallet and the difference to the CP3 pallet
The CP5 chemical pallet is a much discussed addition to material movement in logistics. Compared to the CP3 pallet, which has been successfully used for many years, the CP5 pallet differs in several points.
It has a higher load capacity and thus offers a higher loading capacity. In addition, the CP5 chemical pallet has improved stackability, which is particularly advantageous when there are bottlenecks in warehouses.
Another plus is the option of equipping the CP5 pallet with special RFID transponders to enable seamless tracking of shipments. But not every application requires the use of CP5 chemical pallets. For many logistics processes, the proven CP3 pallet is still the better solution.
CP5 pallet dimensions & weight
With a size of 760 x 1,140 mm, the CP5 chemical pallet is container-optimized and can easily be transported in standard sea containers. In addition, the pallet is also very light, weighing only 19 kg. These features make the CP5 pallet an ideal choice for transporting all kinds of goods. Whether you want to ship your products within the country or across international borders, the CP5 chemical pallet is a reliable solution.
Conclusion about the CP5 chemical pallet
The CP5 pallet stands out as a reliable and versatile solution for your transportation and storage needs. With a maximum load capacity of 1,500 kg, it is suitable for almost any application. Its robust construction guarantees durability and low maintenance costs. In addition, the optimization of the container size offers cost savings in transport costs. With the CP5 pallet, you have an efficient solution that revolutionizes the logistics processes in your warehouse.
WORLDWIDE COMPANIES
use the pallets and trust Baust pallet changer & pallet turner