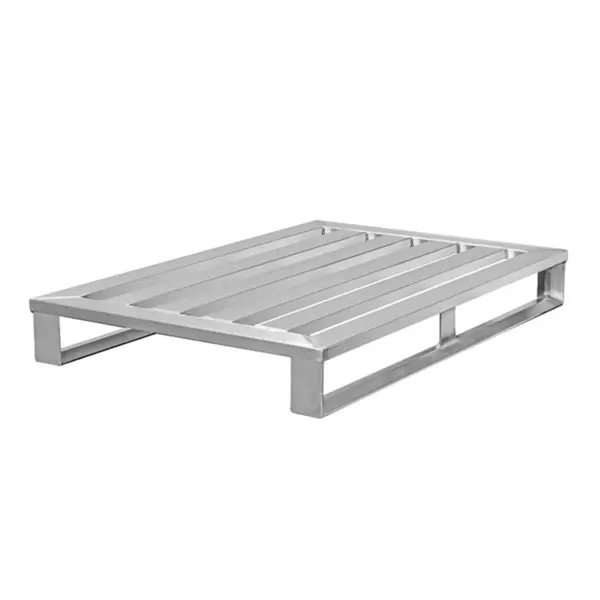 Aluminum pallet – versatile in logistics
The use of aluminum pallets in the logistics industry is a wise decision
These pallets offer numerous advantages over their wooden or plastic counterparts. Aluminum creates a strong, durable, and robust foundation that can support heavy weight while minimizing wear and tear. This versatility in logistics is unparalleled, as it consists of a variety of applications, from air freight to rail transportation. This type of pallet also has advantages in hygiene and cleanliness, as it is easier to clean and disinfect. Considering all these advantages, aluminum pallets are definitely a worthwhile investment for all logistics and transportation companies.
Baust does not offer direct pallet purchase, but the right machines for the pallet handling.
» Contact now
Complete systems for the material flow
Planning for automation and conveyor technology for your palletizing system
The advantages of aluminum pallets
Aluminum pallets are an increasingly popular option for transporting goods, and this is not without reason. Compared to pallets made of wood, aluminum pallets offer numerous advantages, including higher load capacity, longer life, and better resistance to moisture and temperature extremes. In addition, they are lighter and therefore more convenient to handle. Although the purchase price may be higher, the investment in aluminum pallets pays off in the long run, outperforming the competition. Therefore, as a company, it may be worthwhile to invest in these pallets and increase the range of products available to customers.
Aluminum pallets are not suitable for all transport companies
The use of aluminum pallets is widespread in the logistics industry, but not every transport company is suitable for this type of pallets. Aluminum pallets are very light and strong, but they are also more expensive than traditional pallet materials.
A company that frequently transports goods, where the pallets are only used once and then have to be disposed of, may not be able to afford the use of aluminum pallets. However, there are transportation companies that can benefit from aluminum pallets because of their industry and the type of goods they transport. These are often impact and scratch resistant, which can be beneficial for transporting delicate or expensive materials. So, it depends on the specific requirements of the transport company whether aluminum pallets are a viable choice.
Aluminum pallets price – you should expect this
Aluminum pallets are a popular choice when selecting transportation logistics equipment due to their durability, light weight and high load capacity. However, prices vary depending on the size, strength and labor involved in production. To get the best price, it pays to compare carefully and consider different suppliers. The price can also be reduced by using recycled aluminum, which is a more environmentally friendly option. It is important to keep in mind the total cost of the pallets, including the cost of maintenance and cleaning, as well as logistical challenges. By considering these aspects, one will be able to purchase the aluminum pallets at a fair price that meets the needs of the business.
WORLDWIDE COMPANIES
use the pallets and trust Baust pallet changer & pallet turner