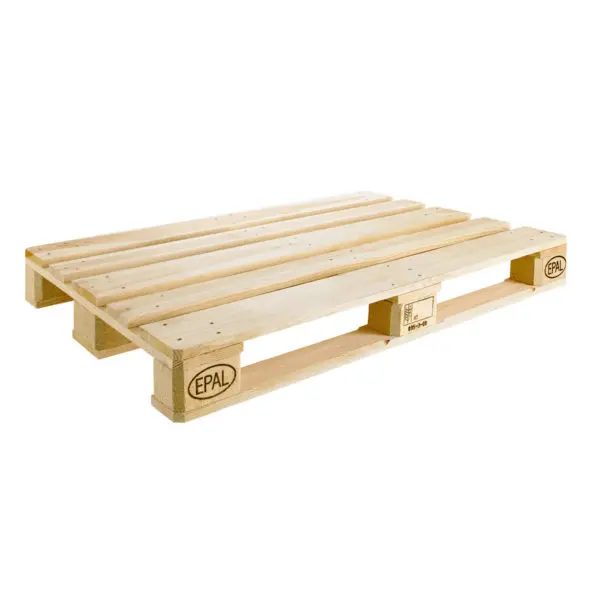 Euro pallet – what is it?
A Europallet is a special flat pallet made of wood and is part of the Europool exchange system
The Euro pallet is certified according to the EN 13698-1 standard and can be recognized by its characteristic dimension of 1200 x 800 mm. Originally, the Euro pallet was introduced to optimize international trade and make the transport of goods easier and faster. Although it is mainly used in industry and logistics, it has now also found its place in the design and DIY sectors.
Baust does not offer direct pallet purchase, but the right machines for pallet handling.
» Contact now
Complete systems for the material flow
Planning for automation and conveyor technology for your palletizing system
These are the euro pallets dimensions
Euro pallets are a popular and versatile way to transport goods and commodities. Europallets dimensions are standardized, which makes them an ideal choice for international trade. A typical Euro pallet has a length of 120 cm and a width of 80 cm. It is about 14.4 cm high and weighs about 25 kg. Their standardized dimensions allow them to fit perfectly into truck trailers and containers, keeping transportation and storage costs low. Whether used for shipping products or as a base for DIY projects, Euro pallets are a practical and affordable material used in many industries and applications.
The Europallet Standard Explained
The Euro pallet standard is an important topic for the freight logistics industry and its importance cannot be ignored. In fact, this standard is used by many companies around the world. It is a pallet with a standardized size of 1200 mm x 800 mm and a height of 144 mm. The Euro pallet standard helps to optimize warehousing and transportation by creating a uniform basis on which companies can work. In addition, the standard has a significant impact on the environment, as it can be used recurrently through recycling processes. Therefore, it is important that companies operating in the European supply chain have a basic understanding of the Europallet standard and how it can be applied to improve processes.
Euro Pallet DIN 15146
Europlate DIN 15146, which has been in effect since 2013, ensures that all pallets are manufactured in a uniform manner to ensure smooth storage and transportation. The sturdy wooden construction makes the Euro pallet durable and resilient. Whether in trade, industry or moving – the Euro pallet is a reliable and ubiquitous helper in transportation.
The Europallet exchange system
The Europool is an exchange system that facilitates the recycling of Euro pallets. The concept involves companies collecting and returning their used pallets in order to receive new ones. This helps reduce the costs associated with buying new euro pallets and promotes sustainability by conserving valuable resources. Companies participating in the swap must meet certain requirements.
For example, they must ensure that all euro pallets comply with the EN 13698-1 standard and have not been excessively damaged or modified. This ensures that the quality is maintained during the exchange. By participating, companies can benefit from lower costs and environmental friendliness.
It is therefore easy to see why the Euro pallet is so popular around the world. With its standardized dimensions, durable construction and accessibility through the Europool exchange system, it offers an affordable and reliable way to transport goods and commodities. Whether used for storage or as a base for DIY projects, the Euro pallet is an invaluable material with many applications in industry and logistics. By understanding its basic characteristics and functions, companies can ensure they are making the most of this valuable resource to improve their processes.
Europallet Cost
Euro pallet prices & costs can vary greatly depending on size, condition and material. However, they are still very affordable compared to other transportation options and last longer due to their high load capacity.
Euro pallet stacking frame – what do you need a stacking frame for Euro pallets for?
A stacking frame for Euro pallets can be a great help when it comes to transporting goods safely. With a europallet stacking frame you can increase the height of the pallet to transport more products at once. It also protects goods from damage, as a top frame for euro pallets prevents them from falling or shifting during transportation. The stacking frame is also useful in storage, as it allows you to stack more items on a Euro pallet without damaging or overloading it. Overall, the Euro pallet stacking frame is a valuable tool that helps transport and store goods safely and efficiently.
When companies understand the basics of Euro pallets, they can streamline their processes and save money. Whether by purchasing new or trading in used Euro pallets, or using a stacking frame to maximize space, Euro pallets offer an efficient and cost-effective way to store and transport goods. Companies that take advantage of this widely available resource will be in a better position to succeed in the global marketplace.
WORLDWIDE COMPANIES
use the pallets and trust Baust pallet changer & pallet turner