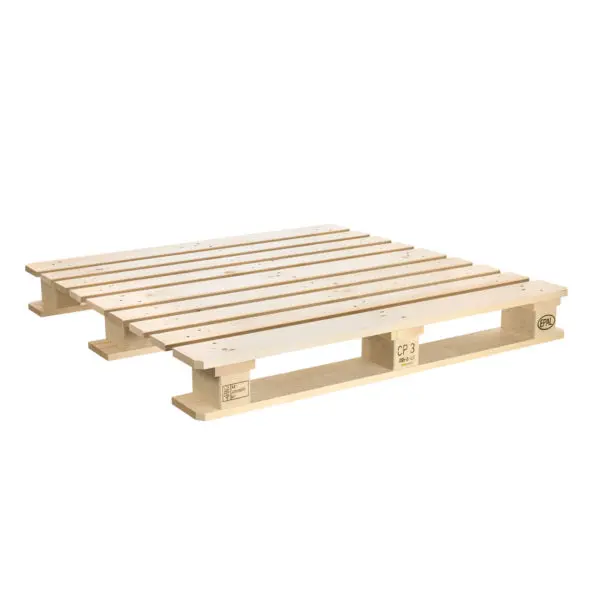 CP3 pallet – a container optimized chemical pallet
The CP3 pallet is a container-optimized chemical pallet specially designed for the transport of hazardous goods.
With its sophisticated design, it ensures maximum safety and stability during transport. The CP3 pallet is made of robust plastic and features a non-slip surface as well as rails and holders to securely fix vessels of any size and shape. It is also easy to handle and complies with all relevant regulations and requirements. With the CP3 pallet you can rely on a smooth and safe transport of your chemicals.
Baust does not offer direct pallet purchasing, but does offer the right machines for pallet handling.
» Contact now
Complete systems for the material flow
Planning for automation and conveyor technology for your palletizing system
The advantages of the CP3 pallet
The CP3 pallet has many advantages that can help make the transportation process more efficient and safer. One of these advantages is the robust construction of the pallet, which can support even the heaviest loads, minimizing damage to the goods. In addition, the CP3 pallet is stackable and can be easily stored, saving space and increasing transport capacity. With its reusability and long life, the CP3 pallet is also a more environmentally friendly option that helps reduce waste. All in all, the CP3 pallet is a cost-effective and reliable solution for transporting goods.
CP3 Chemical Pallet Dimensions
CP3 pallet dimensions are 1,140 x 1,140 mm and are ideal for use in containers. Due to their optimized size, they fit perfectly into standard container dimensions, providing an efficient stowage and transport option. The robust design ensures high load capacity and durability, which in turn leads to high cost-effectiveness. With the CP3 chemical pallet, you can ensure that your goods are transported safely and reliably, and without additional costs for oversizing.
CP3 pallet weight
A CP3 pallet weighs approximately 20 kg. This lightweight design is ideal for transportation as it reduces fuel consumption and makes loading and unloading easier. It also has a low center of gravity, making it more stable and safe during transport. The light weight of the CP3 chemical pallet also contributes to its cost efficiency by eliminating the additional costs associated with heavy pallets.
Overall, the CP3 chemical pallet is an excellent choice for the safe transport of hazardous materials. Its unique design ensures that your goods remain undamaged during transport, while saving space and reducing transportation costs. With its robust construction, stackability, reusability and optimized dimensions, the CP3 Chemical Pallet is sure to provide maximum protection for your cargo.
WORLDWIDE COMPANIES
use the pallets and trust Baust pallet changer & pallet turner