After successfully completing a project with our joint business partner Döllken, Greiner Extrusion also came back to us for their new project: The final product is a plastic corner bracket that is used in the construction industry.
Requirements of the customer:
Double-strand production
Production speed: 40 m / min
Perforation of the plastic corner bracket on both legs
Space-saving installation
Integration in the production line
Benefits of the KRS 140:
Easy integration into existing production lines
Compact design
Opened punching tools during product calibration
Material guiding individually adapted to the product
Quick and easy tool change
Plastic material thicknesses up to 4 mm can be punched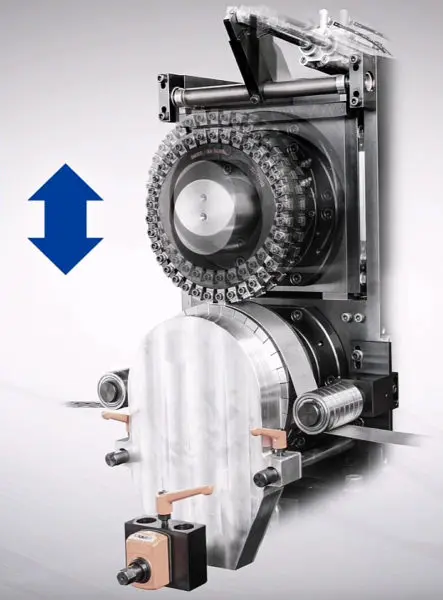 Two successive KRS 140 rotary punching machines are used at a distance of 1,2 m – one for each leg. They are positioned between the caterpillar take-off and the cutting unit. The rotary punching machine works synchronously with the line speed via a measuring wheel, which records the speed of the corner angle in front of the caterpillar take-off.
The corner angle profiles are rotated by 45° or 90° in front of the rotary punching machines and inserted into the lateral material guiding to obtain a horizontal punching surface. After the punching process, the profiles are rotated back to their original position.
The used punching machines have the advantage that the tools can be moved apart via a patented mechanism. In this way, punches and dies are out of engagement and the corner angle can be inserted and calibrated without touching them. Afterwards the tools are closed again.